I like widgets on the iPhone and iPad. They add a quick glance to different actions and apps on Control Center.
If I had to choose a widget, I would say my favorite would be MusixMatch. The updated tune-tracking app adds a live lyric section that turns Control Center into a karaoke machine.
You don't even have to identify the song playing on Apple Music. MusixMatch hears the tune automatically and plays the lyrics for you to sing along.
I recently talked about Feeday, an app that creates a widget for the Instagram photos of the people you follow. While Usage Widget shows the free space and memory available on your iPhone and iPad, as well as the speed of your Wi-Fi.
Stacks puts a currency converter on Control Center to know how much is a dollar in Swedish crowns, and LinkedIn's widget lets you know who watched your profile without opening the app.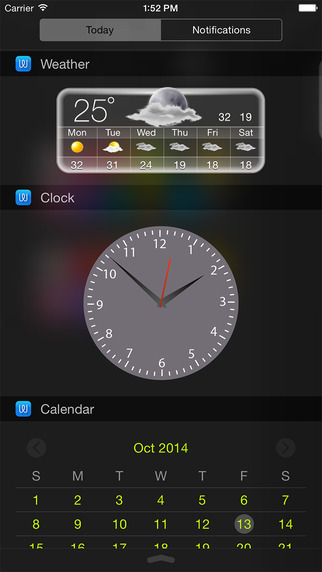 There are loads of widens in the App Store, and you can add Widget to the list. The widget app comes with four tools; weather, battery, clock and calendar.
Widgets are self-explanatory. Now you will be able to see how long will your battery last and the day you're living, as well as a blog clock and a the weather.
The app has different widget designs; to apply a different design to the widget on Control Center, select the one you like inside Widget to see the change reflected in the Today section.
You can change the text color, and unlock six themes for $2. Widget displays ads inside the app, but the great thing is that widgets for Control Center are ad-free.
Did you like Widget? Please let me know when to come in sections and thank you for reading eliaspelcastre.com.